Securing water installations on construction sites
Construction site security CSLP-KMP
– control of water consumption on the construction site

In response to specific inquiries from insurance companies and contractors, DanTaet has further developed its CSLP construction site protection, now CSLP-KMP, to make it more complete, safer, flexible and user-friendly.
The aim is to prevent the extensive, very costly and delaying water damage that often occurs on construction sites in particular, by automatically shutting off excessive water consumption during working hours and minimal consumption outside working hours.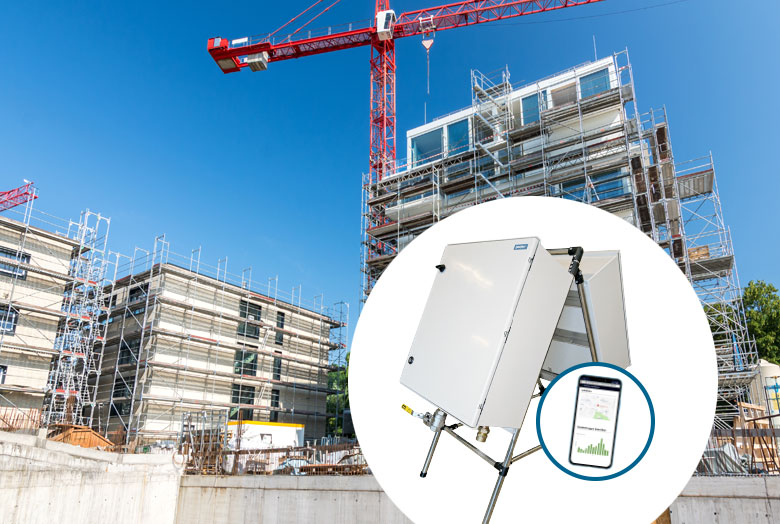 The Dantaet system is installed on the construction site when it is opened.
Functions of the system
The site manager receives an alarm on his mobile phone when CSLP-KMP has shut off an abnormal water consumption, and he can restore the water supply from his phone once he has investigated the incident.
The construction manager can also set working hours for the construction site and allow subcontractors to open the water supply for a short period of time outside working hours.
When setting up the system, the site manager contacts DanTaet for setting alarm limits, which is done remotely from the company.
The system includes backflow prevention (category 4), frost protection and Spring Return NC valve.
Round-the-clock surveillance
With a DanTaet CSLP-KMP system, the water consumption of the construction site is monitored around the clock, minimizing the risk of costly and delaying water damage and avoiding unnecessary water waste.
The system is installed on the construction site when the site is opened. The system's meter and valve are located in one section of the panel, the system is supplied, as standard, in either ¾" or 1″ version; in the other section all control units are located.
The system is simple to set up, connect the water supply and outlet, connect 230V to the cabinet and the system is ready for use and DanTaet can via integrated internet connection create users for the system and set desired alarm limits.
Via DanTaet AERS® , the site manager can create a schedule for opening and closing times on the construction site and assign user rights to other craftsmen, so that they can turn on the water for a limited period of time outside these opening hours.
For unmanned construction sites, only modest consumption is allowed and the water installation is shut off when an alarm limit is exceeded. It is optional whether the system should send SMS notification when the construction site is unmanned.
The system is highly flexible and can be adapted to most requirements and wishes. No special skills are required by the operator, as the system is sold with DanTaet remote support, which makes all settings, customizations and adjustments.