Leaks and water wastage are a thing of the past
Municipalities can save a lot of money if, as in Ringsted, they secure district heating installations in schools and institutions against leaks, burst pipes and waste of expensive district heating water.

Through Ringsted Forsyning A/S, operations manager in technical administration Lars Rasmussen learned that district heating plants can be leak-proofed by flow monitoring in the plant's supply and return pipes.
Lars Rasmussen had imagined that Dagmarskolen would install a heat exchanger between the district heating supply and the internal installation to minimize damage to the building in case of leaks and burst pipes.
– In fact, we have already installed heat exchangers in several places, but it is not cost-effective as about five percent of the heat is lost in the exchanger itself. In DanTaet's leakage protection, there is no heat loss and the reaction time to even the smallest seepage is ultra-short. If the system detects a difference in the supply and return lines, the valves are immediately shut off and an alarm is sent to the service employee or duty officer, explains Lars Rasmussen.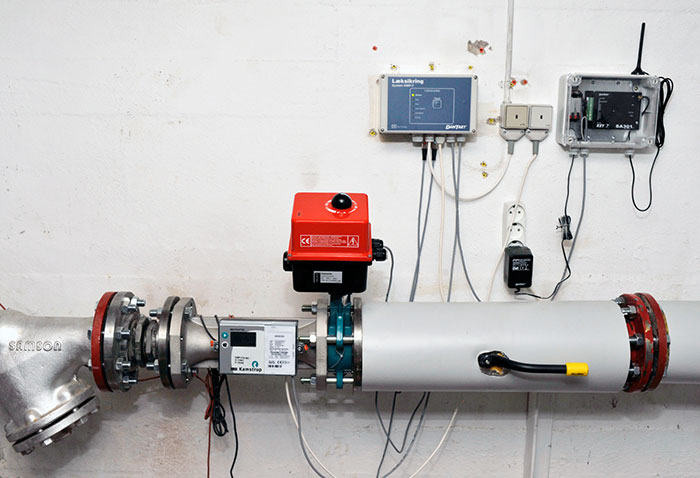 Section of the leakage protection system showing flow meter, energy calculator, shut-off valve, control box and SMS alarm transmitter.
Simple but effective
Ringsted Municipality has 125 buildings that are potential subjects for leakage protection systems. The first installations at Dagmarskolen, Sønder Park School and Valdemarskolen have been running smoothly since commissioning in February 2011. The installation was carried out by a local plumber according to DanTaet's instructions, and Ringsted Forsyning has participated on the sidelines, as the meter is part of the leakage protection system.
According to DanTaets, the latest system, KMP-F, was developed in close cooperation with Kamstrup, a major Danish manufacturer of heat meters. DanTaet's well-known and effective leakage protection is thus combined with Kamstrup's latest flow meter technology
Things can go very wrong if a district heating installation springs a leak and hot water is allowed to escape. The damage can be quite severe and cost a lot of money.
– Over the years, DanTaet's leakage protection systems have prevented water damage for large sums of money, the sales director emphasizes. This is why insurers reward customers who install leakage protection systems in their district heating and domestic hot water installations. Typically, the premium for a standard pipe damage insurance policy is reduced between 25 and 50 percent for a domestic installation.

In Ringsted, they show the way
The maintenance of buildings and technical installations in Ringsted Municipality is centralized in a property center under the technical administration. According to operations manager Lars Rasmussen, this will save a lot of money – and make it easier to be a service employee. Until now, service staff in schools and institutions have had to keep track of the names, phone numbers, etc. of service companies' craftsmen and specialists. Now it will be easier, because the municipality is establishing a property center that will in future put tasks out to framework tenders (for general maintenance), while larger maintenance and ad hoc tasks will be put out to tender on an ongoing basis.
– This means that the service staff always know who to contact, and at the same time the municipality saves money, says operations manager Lars Rasmussen.
Although Ringsted is a smaller municipality, the economic challenges are as great as in most other municipalities. Lars Rasmussen does not know how much will be saved by establishing the property center, but a large part of the savings will be used to improve services.
– In the city of Ringsted, we have prioritized leak protection of buildings with hidden pipe installations. At Dagmar School, the leak detection has revealed two hidden pipe damage with water spillage, and we are not very happy about that. On the other hand, we are happy that health insurance works," says Rasmussen.
In Ringsted town, we have prioritized leak protection of buildings with hidden pipe installations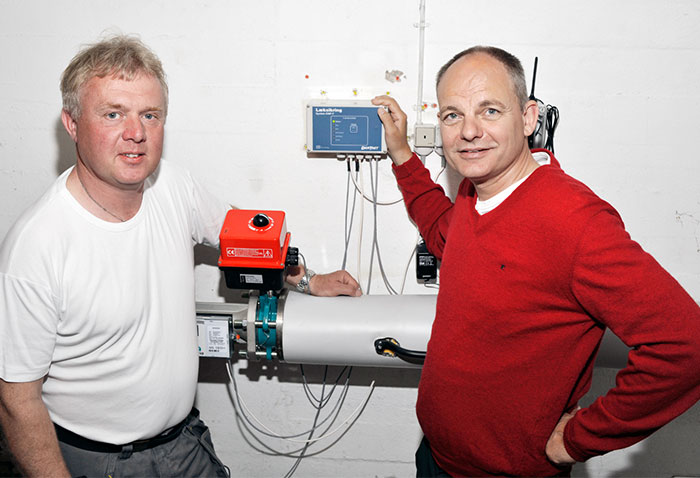 Team leader Søren Jakobsen and operations manager Lars Rasmussen.