Being green is also a competitive parameter, so we are going all-in, says Frederik Barfoed, Executive Vice President of Barfoed Group

Munkebjerg Park consists of a total of approx. 60,000 m2 residential and 15,000 m2 commercial. With a built-up area of only 60 %,
the area has large green spaces, including its own park, a protected forest and several lakes for the enjoyment of local residents.

Around 40 percent of the energy used in Denmark every day is used in buildings. Buildings in which people live or businesses operate. One of Denmark's largest real estate groups – Barfoed Group – wants to do its part to reduce this figure.
The environment and energy are areas of increasing importance to us.
– Although it is not new for us to think in terms of energy-saving and environmentally sound investments and solutions, the environment and energy are areas that we are increasingly emphasizing in our building stock, emphasize Executive Vice President Frederik Barfoed and Technical Director Søren Aagaard Rasmussen in agreement.
Impressive new building in Odense
Barfoed Group, which is headquartered in the center of Odense, owns a total of 350 properties, geographically spread across the country. 55 percent of the properties are rented to private individuals, while 45 percent are commercial rentals.
The building stock is a combination of renovated older properties and new construction.
Among the latter is the innovative and impressive residential and commercial development Munkebjerg Park in Odense South.
The development, which will be built in three phases, will comprise a total of 580 homes, including student, luxury, youth and senior housing, spread over 60,000 m2. In addition, there will be a commercial section – Munkebjerg Business Park – totaling 15,000 m2.
Leak proofing – the latest green shoots on the tree
Søren Aagaard Rasmussen says that Munkebjerg Park is very green and sustainable. – This includes everything from building materials, local labor, green roofs, LED lighting, photovoltaics, waste management and energy optimization.
For the latter, the Barfoed Group has chosen to install DanTaet leakage protection systems on the water and heating systems in all properties.
In addition, an Alarm and Energy Recording System (AERS) is connected to each leakage protection system.
– With AERS, alarms from all plants are gathered in one alarm system, and this makes it easy and clear for our technical staff to assess how to react to an alarm, says Søren Aagaard Rasmussen.
In addition to recording and relaying alarms from the leakage protection systems, AERS also records the ongoing evolution of the water and heat consumption of the properties.
The safeguards against seepage and leakage are thus fully in place. But it doesn't stop there. The Barfoed Group also wants to secure their properties against large amounts of water, for example during cloudbursts. DanTaet cloudburst alarms have therefore been installed in all basement areas. And it only takes very small amounts of water for the sensor to react and sound an alarm.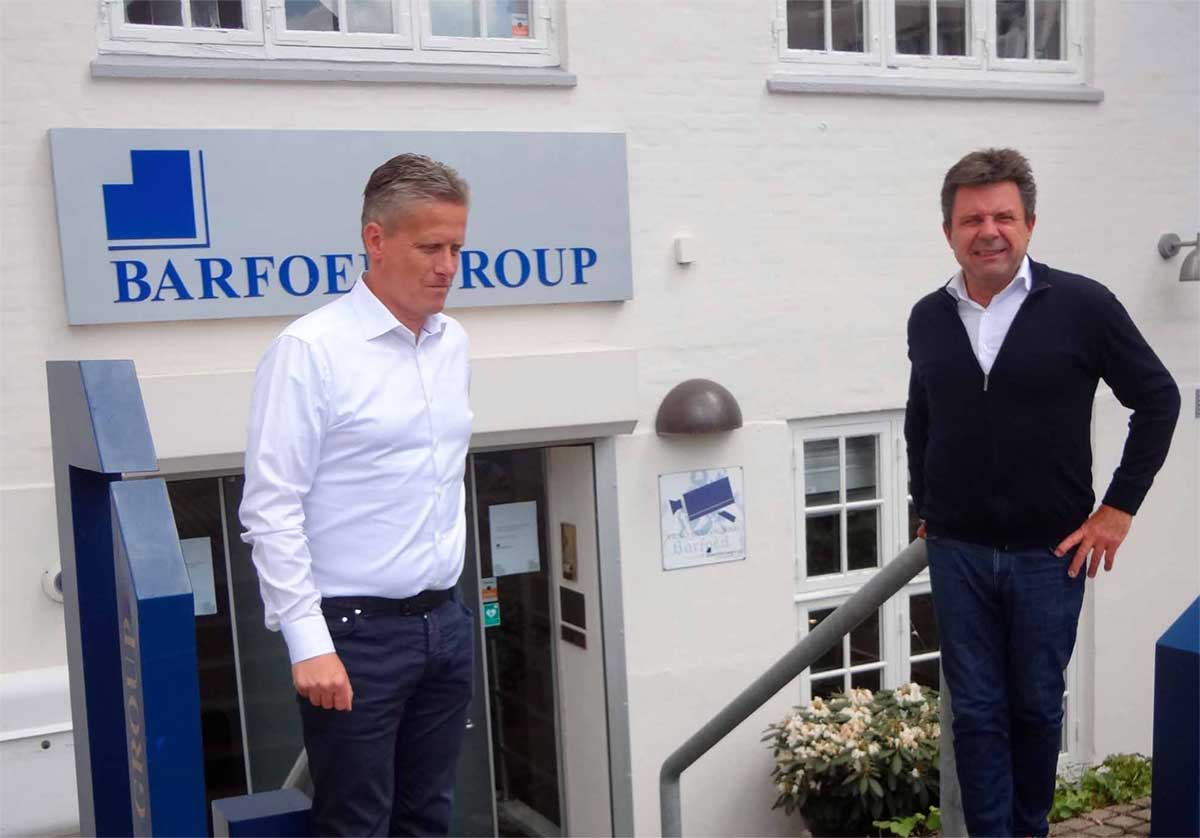 Barfoed Group will in future focus on new construction rather than renovation of older properties. – And, of course, sustainable construction, emphasize, from left, Frederik Barfoed, Executive Vice President and Søren Aagaard Rasmussen, Technical Director.
The real estate group has also received BYG FYN's environmental diploma for the Munkebjerg Park building project.
Water damage worth almost DKK 2 million.
Shortly before the second phase of Munkebjerg Park was completed and the apartments were ready for occupancy, extensive water damage occurred. Søren Aagaard Rasmussen reports:
– It was as unfortunate as it could almost be. A pipe joint in one of the apartments was not fully installed when the water supply was connected. And unfortunately, the water was connected before the leakage protection systems were connected. A human, but unfortunately very regrettable – and costly – mistake.
Frederik Barfoed adds that the cost of repairing the damage caused by the water leakage amounted to just under DKK 2 million.
A regrettable – and costly – mistake
Since that experience, no water has been turned on in any of the properties until it has been ensured that the leakage protection systems are connected.

More and more properties are becoming leak-proofed
Barfoed Group has today installed leakage protection systems in 15 of its properties. And Søren Aagaard Rasmussen expects that by the end of the year, around 20 properties will be protected against water leaks.
– Not only can the consequential damage caused by a leak be quite costly to repair, but our tenants, both private and commercial, are also unnecessarily inconvenienced. Finally, a leak also leads to a completely unnecessary waste of water, stresses the company's technical director.