Big extra bills coming from water companies to several of their customers
A newly developed leakage protection system can stop water waste and save customers thousands of pounds.
"This year, there are 700 households whose water consumption is far from what is expected…"

During the first quarter of each year, many of the country's water utilities are faced with the unfortunate situation of having to tell some of their customers that they will be facing a large or small extra water bill.
– It's never fun as a water utility to have to give our customers these kinds of messages, says Brian Truegaard, team leader at VandCenter Syd, which supplies water to 52,000 households in Odense. He continues:
– This year, 700 households are experiencing water consumption far below the expected level, resulting in extra bills for some consumers. The additional costs vary from a few thousand to up to €30,000.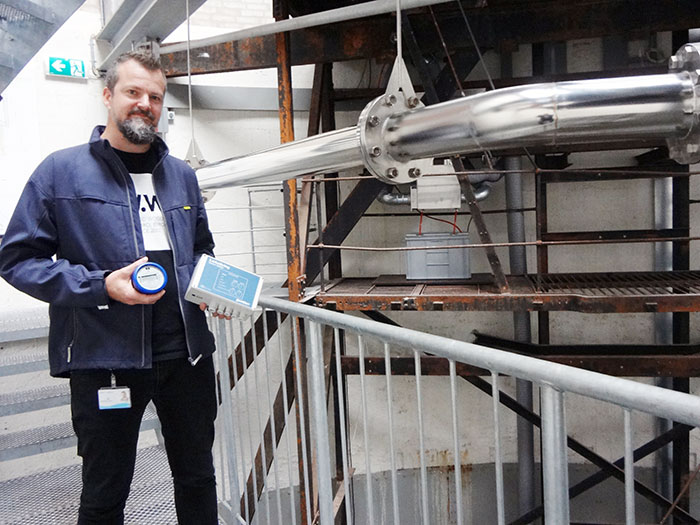 Brian Truegaard in VandCenter Syd's large well from 1903, which is now a museum. VandCenter Syd was built in 1853 as Denmark's first public waterworks. The address was then called Vandværksvej and still is.
However, only a few of VandCenter Syd's customers are presented with such an extraordinarily large bill. According to Brian Truegaard, this concerns 20-25 households, where the extra bill amounts to DKK 30,000.
– But it is also 20-25 or rather 700 cases too many each year. In addition to the completely unnecessary additional financial cost – covering not only the water consumption itself, but also the damage it can cause to the home – thousands of cubic meters of water run straight into the sewer. And it could easily be avoided, according to the team leader.

Brian Truegaard emphasizes the somewhat paradoxical fact that the waterworks makes its living from selling water, but conversely, we ask customers to conserve it, of course so as not to abuse the groundwater resources. The leakage protection system is a good help for this.
Water waste is expensive
The vast majority of consumers have neither the time nor the energy to monitor the development of their water consumption by regularly reading their water meter and regularly testing their water installations themselves.
– If everyone did this, leaking installations, dripping taps and running toilet cisterns would be quickly detected and a lot of money could be saved, stresses Brian Truegaard, giving a few "price" examples:
A running toilet discharges 1,500 liters of clean water into the sewer in 24 hours. It costs about 32.000 kr. per year.
A dripping faucet wastes 96 liters of water per day, costing about 2000 kr. annually.

Development cooperation on leakage protection system
A simple and easy solution to avoid large extra water bills and costly consequential damage is to install a household leakage protection system combined with a wireless water meter. This solution ensures that water seepage and leaks are stopped.
The leakage protection system has been developed in a collaboration between the companies DanTaet, Kamstrup, Danish Technological Institute and VandCenter Syd.
Brian Truegaard estimates that a leakage protection system could save many of not only VandCenter Syd's customers, but waterworks customers all over the country from large, unpleasant extra bills.
"A running toilet discharges between 1,500 and 13,200 liters of clean water into the sewer in a day. The costs between approximately DKK 32,000 and approximately DKK 281,600 per year."
In addition to being employed by VandCenter Syd, the team leader is also a private customer at his workplace.
– I live on the third floor of a four-apartment building and have experienced first-hand what water damage can cause. Last summer, a hose to the sink faucet in the first floor apartment suddenly burst in the middle of the night. Fortunately, all residents were at home and were able to shut off the water, but a lot of water still managed to gush out, causing major damage to ceilings and floors.
– Today, a leakage protection system has been installed in the basement of the property, because none of the property's residents want to go through that kind of experience again, emphasizes Brian Truegaard.
Discount on insurance
If you secure your house and/or holiday home with a leakage protection system, there is one more advantage in addition to those already mentioned. A large number of insurance companies offer discounts on pipe damage insurance to customers who have installed a leakage protection/water damage alarm. The discount is between 25% and 40%, depending on the company you are insured with.