A house that is automated and secured at every turn
Bravida Odense has just moved into Tietgenbyen
We have actually gone
'all in' on leak proofing

Today, Søren Larsen and his colleagues can wear shirtsleeves in their workplace, all year round, mind you.
– It was completely unthinkable in our former domicile on Svendborgvej in Odense South. Even on May 1, we often had to turn on the electric fan heater despite our sweaters and sweaters, he remembers.
Søren Larsen is department manager for the plumbing area in Bravida Odense. The department is the third largest among the Bravida Group's total of 20 departments in Denmark and it has just moved.
Architect: ERIK architects
CTS, BMS, IBI: OBH Gruppen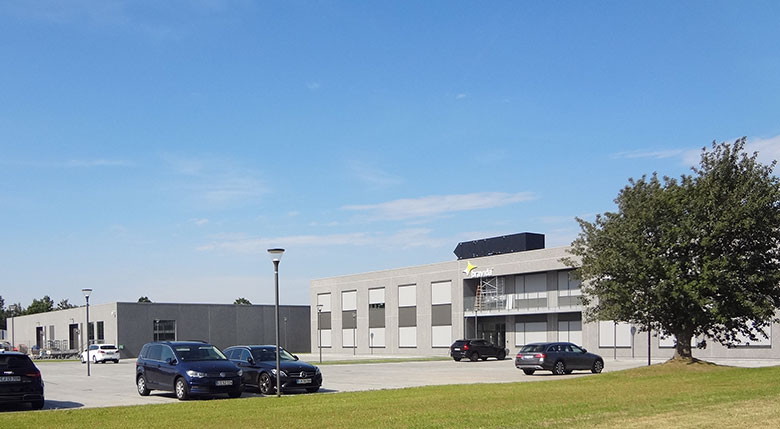 Bravida Odense's new domicile at C. F. Tietgens Boulevard 43
From outdated – to state-of-the-art
Bravida Odense must be said to have taken something of a quantum leap with the move into the new domicile at C. F. Tietgens Boulevard 43 in southeastern Odense.
– It's simply a beautiful house, says Søren Larsen, as he shows us around the new building with a total area of 4,500m2.
Bravida's Odense branch is the third largest among the Bravida Group's 20 branches in Denmark.
The complex consists of two buildings, a two-level administration building totaling 2,500 m2 and a 2,000 m2 warehouse/workshop building.
– The move has not only given us much more space, but also a much, much better physical working environment than we had in the 60-year-old buildings on Svendborgvej.
Intelligent and automated house
The house is equipped with all the building automation solutions you can think of.
Including installations such as CTS (Central Condition Monitoring and Control), BMS (Building Management Systems) and IBI (Intelligent Building Installations).
The above-mentioned installations form a very central part of the control and monitoring of the technical installations of the house. CTS/BMS/IBI systems can monitor and control ventilation, heating, cooling, lighting and shading systems. The result is an optimal indoor climate – and perhaps most importantly, reduced energy costs.
And speaking of energy optimization, the roof of the workshop/warehouse building is covered with solar panels.

Leakproofing, just in case…
All technical installations are installed in two technical rooms, one in the administration building and one in the combined workshop/warehouse.
– Even though it is a brand new house with equally new installations, to be on the safe side, we have chosen to protect ourselves against any leaks in the domestic water and/or district heating system with three leakage protection systems from DanTaet, a market leader in the field, says Søren Larsen, pointing to the wall.
– This is the one installation that protects against leakage in our district heating system, which is common to both buildings. And here the second installation, which provides the domestic water system in the administration building. The third and final system, also a domestic water system, is installed in the technical room of the workshop/storage building to ensure against leakage there.
– We have actually gone all in on leakage protection, says Søren Larsen, while at the same time looking at the floor and pointing to two small liquid sensors located at opposite ends of the technical room.
The liquid sensors are quite inconspicuous in size with a diameter of 2.4 cm and a length of 7.2 cm long. On the other hand, they are extremely sensitive and react to even very small amounts of water or other liquids on the floor. Two millimeters is enough to make a connection between the sensor's electrodes and trigger an alarm.
The new house is the perfect showroom
Bravida is a nationwide supplier of installation and service in a wide range of technical areas, including electricity, plumbing, ventilation, fire and security, district heating, cooling, energy optimization and building automation and leakage protection.
And if customers, who include a wide range of public and private companies as well as private individuals, want to see examples of the range of solutions Bravida offers, there is now a perfect showroom in Tietgenbyen in Odense.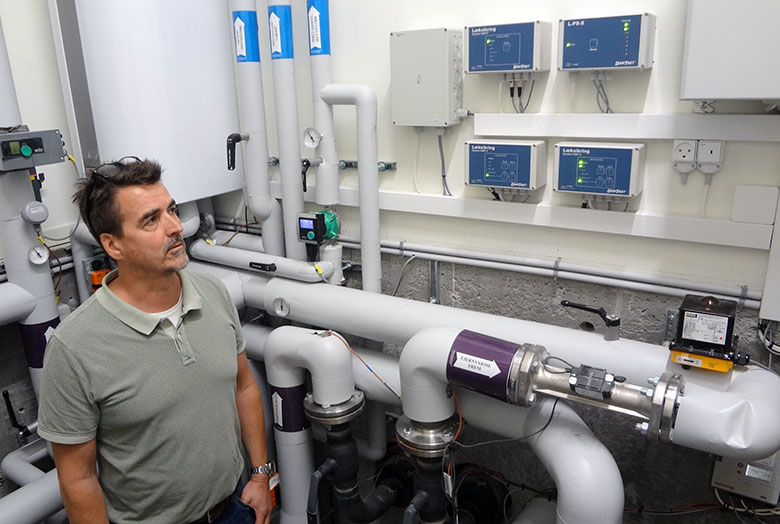 Even though it is a brand new house with equally new installations, we have, to be on the safe side, chosen to protect ourselves against any leaks, says Søren Larsen, head of the plumbing department.