52 horses, 2 dogs and 2 humans are now safe from water damage
– Leak protection systems give us peace of mind and security, say the owners of Thorup Sportsrideklub

A horse alone drinks between 40 and 50 liters a day.
In addition, we use water to wash them and the riding house also needs to be watered regularly

Mads Brix Andersen is feeding the 52 horses at Thorup Sportsrideklub in southeast Odense, which he runs with his wife, rider Lotte Straarup, when he suddenly hears a loud bang. He goes for the sound and quickly finds the box where the sound came from. In one corner stands a horse and in the other, water gushes out of a water pipe where a water cup had been stuck a moment earlier.
– The horse has either pushed or kicked the water cup loose, so that the result was almost a vigorously running tap. Fortunately, I was in the stable when the accident happened, but I can't help but think how much water would have leaked out if the leak had only been discovered during the morning feeding, says Mads Brix Andersen and adds
– We have experienced leaks in the past. It was not a water cup that was torn loose, but a minor leak in a water pipe. There was still a lot of water running out before we realized it and shut off the water. And the combination of deep litter boxes and large amounts of water is really, really bad. But fortunately, the horses were not harmed.
Leakproofing for peace of mind
Worries about widespread damage from leaks in the water system are a thing of the past.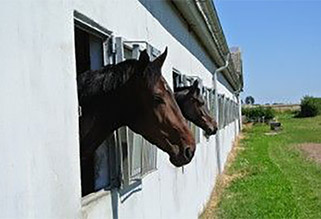 Recently, the couple had a leakage protection system installed, keeping both animals and humans safe. In addition to the three stables, the private residence has also been secured against leaks.
– In fact, the idea of an interlocking system has been in the back of both our minds ever since we bought the farm 12 years ago. Now it is now, and it really does bring peace of mind. The DanTaet system cost almost 10,000 kroner, but I feel it was money well spent. I would definitely recommend others with livestock to install a DanTaet leakage protection system. And maybe even before you have an accident, says Mads Brix Andersen with a smile.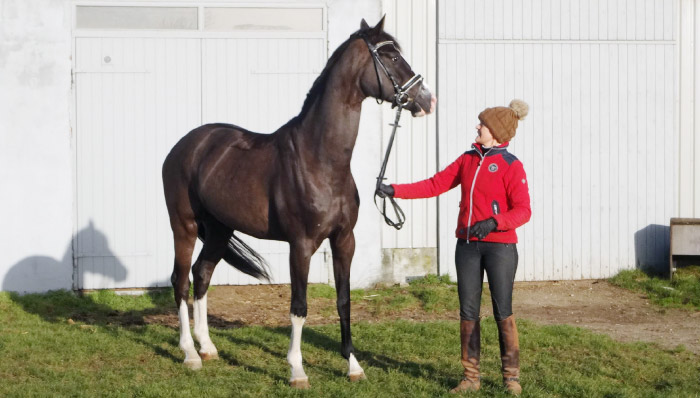 Lotte Straarup is a trained rider and competes at a high level at both national and international competitions. 15 of the horses on the farm are hers and Mads Brix Andersen's. The others are stabled for general training, breaking-in and preparation for various competitions. The couple also do some horse breeding.
– The system shuts down immediately in case of excessive consumption
The leakage protection system consists of three parts, a control box, a water meter and a motor valve.
The system on the farm has been set up so recently that it is still in the automatic commissioning phase. It takes about a couple of weeks for the system to be set up with the correct values and tolerances.
Once the settings are in place and the alarm goes off one day, you can be sure that there is a leak somewhere in the water system.
Apart from the fact that a leak can cause serious consequential damage to animals and equipment, water is a precious resource.
– I don't know our exact daily cubic meter consumption, but we use a lot of water.
A horse alone drinks between 40 and 50 liters a day. In addition, we use water to wash them and the riding hall also needs to be watered regularly, Mads Brix Andersen explains and adds:
– In addition to the many other benefits of the leakage protection system, we are also protected from having to pay for unnecessary water waste.