H.C. Andersen's house is protected against water damage
Tech Relations for DanTaet A/S
It's so easy when you know how
Every year, more than DKK 2 billion worth of water damage occurs in Denmark. But with the right knowledge of leakage protection, consulting engineers can save clients millions of euros in water damage restoration costs.

HC Andersen's house in Odense is protected against this kind of thing.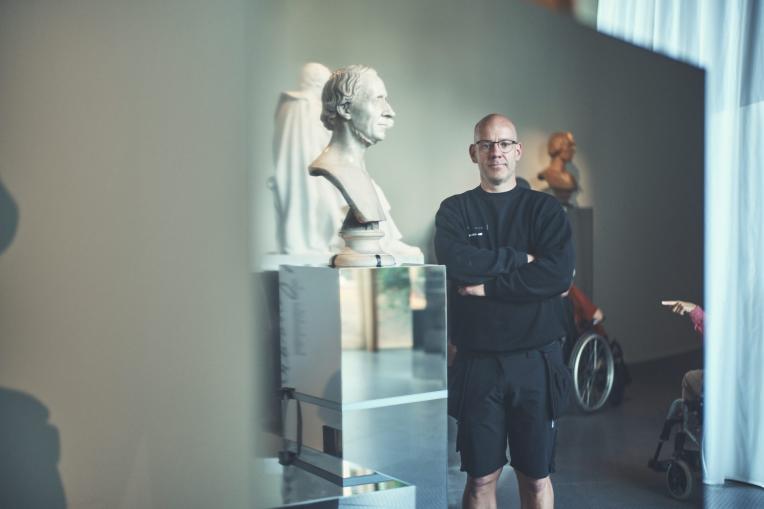 Bo Johansen is Technical Director of Odense City Museums with overall responsibility for 8 museums and exhibition venues. "As a museum, water damage is a disaster for us because it can destroy the cultural heritage we exhibit." Illustration: Jeppe Carlsen
When Odense City Museums built a new museum in 2019, leak protection was a natural part of the planning process.
"Basically, water damage is expensive, so we want to avoid those costs. But as a museum, water damage is a disaster for us because it can destroy the cultural heritage we exhibit," says Bo Johansen, Technical Director of Odense City Museums.

Odense City Museums already had good experience with leak protection. For more than 20 years, Odense's most iconic attraction, Hans Christian Andersen's house, has been protected by a leakage protection system. Andersen's house has been protected by a leakage protection system that monitors the district heating and domestic water pipes in the house.
"In short, the system sends an alarm to the responsible technician and shuts off the water if a leak occurs," explains Svend Garnæs, Development Director at DanTaet, the company behind the leak protection system.
The safety provided by the system not only helps to prevent accidents, it also saves on consumption and boosts the green profile.
Money to save – if you know what you are doing
Now that insurance companies, real estate groups and municipalities have understood the value of leak protection and leak alarm systems, the Holy Grail should be safe and sound. But unfortunately, it is not always on the agenda of consulting engineers. Svend Garnæs and his colleagues at DanTaet are aware of this.
"We often get calls from contractors because there is leak protection in a tender they are bidding for. We can see from the tender documents that many engineers are well aware of the need for leak protection. However, if they have not familiarized themselves with the area, they often just choose a main fuse and do not give much thought to whether the solution can do what the end customer expects. This gives a false sense of security to the client", explains Svend Garnæs.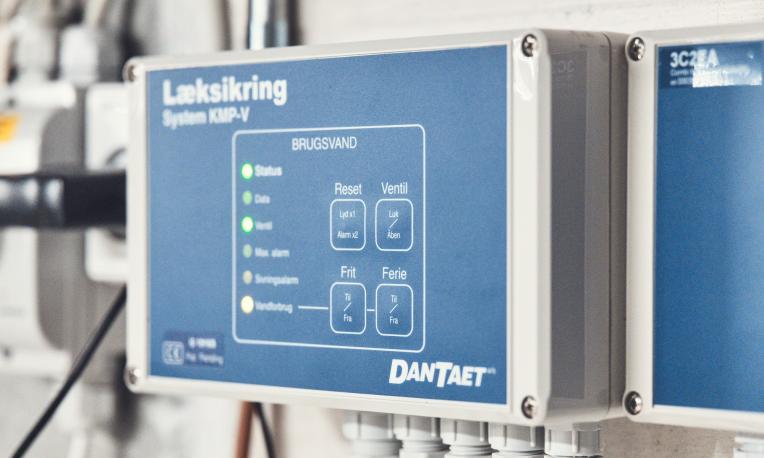 DanTaet secures pipe installations worldwide and has over 30 years of experience in developing leak protection systems and leak alarms for all types of pipe installations. DanTaet's system is recognized by both the Danish Technological Institute and the Danish Institute of Fire Technology. Illustration: Jeppe Carlsen
"When you just put a meter on the main pipe, you can't measure any leaks that are small compared to the dimension of the pipe. It's the equivalent of just putting in the mast fuses on your electrical installation and assuming that's it.
So we often write back to bidders that the project cannot be implemented, but that we would like to help them redesign a solution that works."
Irrigation system teased planning
Because the whole benefit of leakproofing can be lost if planning is not done according to the actual conditions, says Svend Garnæs.
"We've had a client where the design engineers hadn't thought about the fact that there was an irrigation system for the plants in the building. It ran all night, every night, and used several orders of magnitude more water per day than the entire rest of the building. The system did get a signal that irrigation was starting, but so much water was used that any leakage would be impossible to see while it was running."
Svend Garnæs quickly discovered the problem when he reviewed data from the leak alarm system AERS® (Alarm and Energy Registration System), which is an integral part of DanTaet's solutions.
"I could see some strange water volumes that kept appearing, so we dug into it and discovered that the contractor hadn't taken the irrigation system into account when planning the leak protection. So it was only measured in one place, which meant that all sorts of leaks could be hiding under the huge consumption of the irrigation system."
Such an oversight in planning can be costly to rectify. But in this case, it went smoothly.
"The measurements had to be separated so that one system secures the branch to the building and a new system was installed in the branch to the irrigation system. Fortunately, the piping allowed this, even though the entire construction was finished," says Svend Garnæs. At the same time, Bravida, as the technical installer on the project, pointed out that this could save a considerable amount in annual water drainage charges.
Advice for service
This kind of unfortunate situation can be avoided by thinking about health security from the outset. But Svend Garnæs finds that many advisors are reluctant to mention leakage protection to their clients.
"Not many advisors ask whether customers need leakage protection. This could give them a better price on insurance. Maybe advisors are afraid to suggest it because they don't know enough themselves to answer when the customer asks: why do I need it?
It's a shame, because we are more than ready to help them learn. They can just call," says Svend Garnæs.